Qualfiber Have Been Invited by Etisalat for the 5G CPE Tender. After one month discussion for the 5G wireless Band of compliance. The requirement and qualification investigation have been completed. We will continue and follow the process to offer the best network of the new 5 gerneration.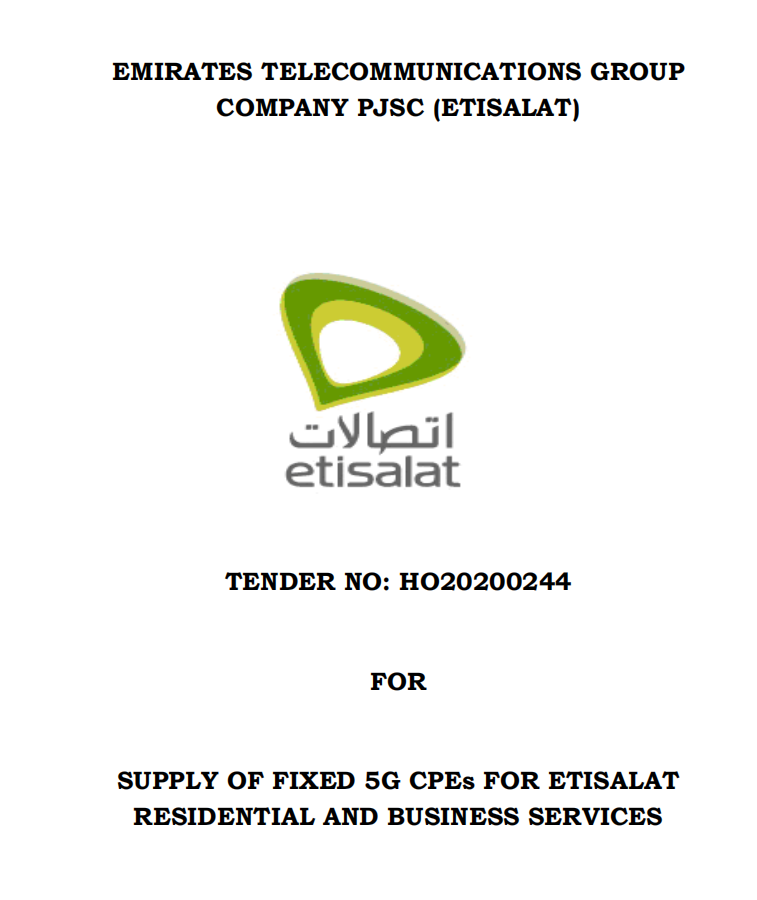 1. INTRODUCTION
1.1. Emirates Telecommunication Group Company P.J.S.C. (Etisalat), being
the leading telecommunication organization, has always been on the
process of continuous evolution with focus on transforming its networks
and operations with latest innovations to cater the versatile and futuristic
demands of the customers.
1.2. Etisalat through this RFP is looking for business partners to supply 5G
Fixed CPEs (Customer Premises Equipment) in accordance with the
technical specifications listed below to offer Fixed Broadband Services to
residential & business customers.
1.3. These specifications shall be read in association with Standard
Instructions and Conditions of Etisalat Tenders SICET-2B, copy of which
is attached with this RFP document.
2. SCOPE OF WORK
The Bidder shall undertake the following cope of work in this RFP, but not
be limited to:
2.1. Supply of Fixed 5G CPEs in accordance with the technical specifications
to offer Fixed Broadband Services to Residential & Business customers.
2.2. The bidder shall offer NMS server in order to manage, monitor, and
provision the offered CPE remotely or to ensure the compatibility of offered
CPEs with the available NMS servers in Etisalat.
2.3. The bidder shall work with Etisalat Product validation teams
(UAELAB/ACS/CPE/Mobile Planning /OSS/ AUTOMATION ) and Service
provisioning teams under the guidance of CPE Development team to
ensure that the offered solution meet the required compatibility with
existing Etisalat broadband, CLOUD services, big data, respective ACS
based provisioning systems & OSS/BSS systems.
2.4. The Bidder must ensure the integration with existing Etisalat OSS, BSS,
CRM platform and big data to fully realize the technical and business
requirements of Etisalat.
2.5. Provide and install all the necessary software and interface with existing
Etisalat systems, subsystems and others (if any) within the provided
solution.
2.6. Bidder's technical brochures for the offered software licenses shall be
submitted with the bids. Compliance statement of bids shall be examined
against the technical details provided in the brochures.
2.7. Bidders shall forward a reference list of Service Providers presently using
the proposed products/solutions, indicating the size of the installed base
and information that supports & indicates the benefits of using the offered
products/solutions for Etisalat Customers. 2.8. Anything that the bidder has compiled in the compliance matrix must be
---
Post time: Nov-08-2020